24/7 IIoT ValveHealth™ Monitoring
Valvescan™ Diagnostic Monitoring System
Imtex have been supplying valve monitoring and testing solutions that are easily implemented to both new and ageing assets, to enable operators to log data from shut down valves for over 5 years. These solutions enable operators to meet their HSE commitments and help improve operational efficiencies.
Imtex have now developed the Valvescan™ Diagnostic System – an end-to-end solution that captures data from every valve operation, analyses it and provides targeted alerts on the valve health without  any requirement for involvement from plant personnel or any potential impact on the asset real-time control integrity. It is a true IIoT solution for automated valves.
UNEXPECTED VALVE FAILURES AND REGULATORY / 3RD PARTY ISSUES ARE ALL POTENTIAL CONSEQUENCES OF NOT HAVING AN ACCURATE VALVE CONDITION MONITORING REGIME.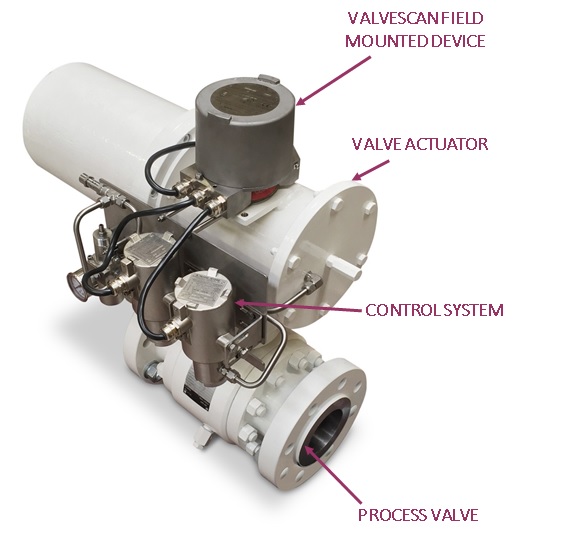 The VDMS offers; 
Easy install 
Fits where the switchbox would on a Valve Assembly
Works with any existing valve system  
 No special components required and does not affect operating speeds / methods
Monitors every operation O
On board V-ID or V-AID Controller records signatures (including Position and Pressure) from every valve operation
Valve test capable 
On board V-ID Smart Transmitter for Monitoring or V-AID Controller for Monitoring and also capable of performing Valve Testing (e.g. PST) if required
HART enabled 
Both V-ID and V-AID elements are HART enabled to allow digital communication with the Plant's control system ensuring calibration and testing functions can be delivered remotely from the Control Room
Independent position feedback 
Valvescan™ Field Mounted Device can be supplied with additional, independent limit switch or transmitter feedback if required
EXD and EXI certified
It can be installed and operate as part of Exd, Exi or mixed protection concept systems
Enables data retrieval and transmission to the Cloud without intervention from plant personnel or risk to the plant process control system
Databases and analyses every valve operation and provides a real-time health check on the valve, as well as full valve history within a site specific web portal
Provides alerts to personnel when performance drop off is detected
THE IMTEX VDMS GOAL IS TO PROVIDE PLANT OPERATORS WITH A HIGHLY ACCURATE PREDICTION OF THE TIME UNTIL AN EXPECTED VALVE FAILURE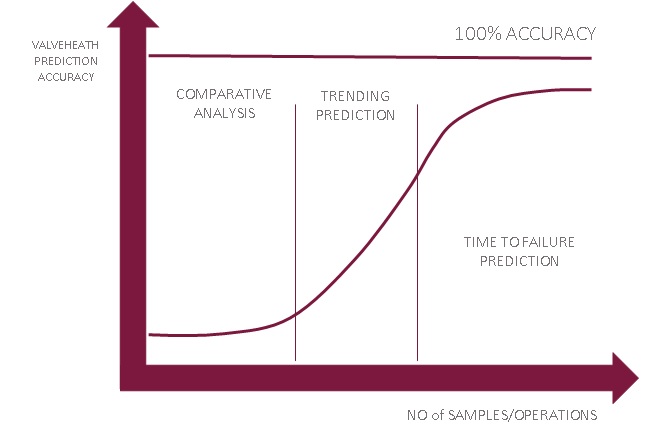 VALVEHEALTH™ MONITORING APPLICATION OVERVIEW
Cloud based application for 24/7 up time    
Operating 'in the Cloud' ValveHealth utilises State-of-the-Art servers based in high security, specialised server farms to ensure 24/7 'up time' on the system
'Bank Grade' cyber security 
Even though ValveHealth has no control functionality and has no means of affecting plant operations, the system infrastructure and security protocols ensure client data is stored to the highest levels of cyber security to prevent data reaching unauthorised hands
Easy-to-use web interface 
Designed to operate in a standard web browser, ValveHealth can be accessed from any device with a Web connection and is extremely simple and intuitive to navigate
Site/client specific server 
Every site/client has a dedicated interface specific to them. This allows important site/client and user information to displayed and configured to individual needs
Complete valve history 
Every automated valve event is recorded and databased within ValveHealth to provide a full performance history for the valve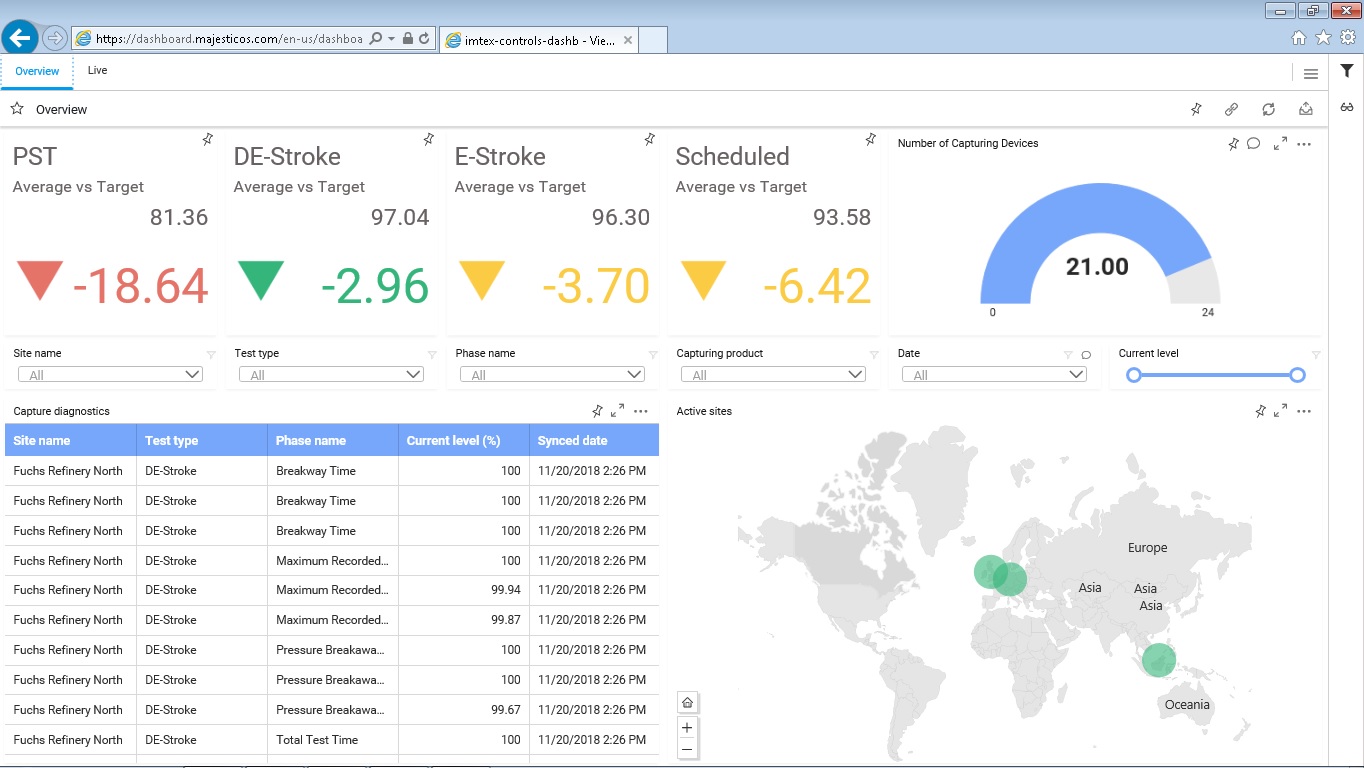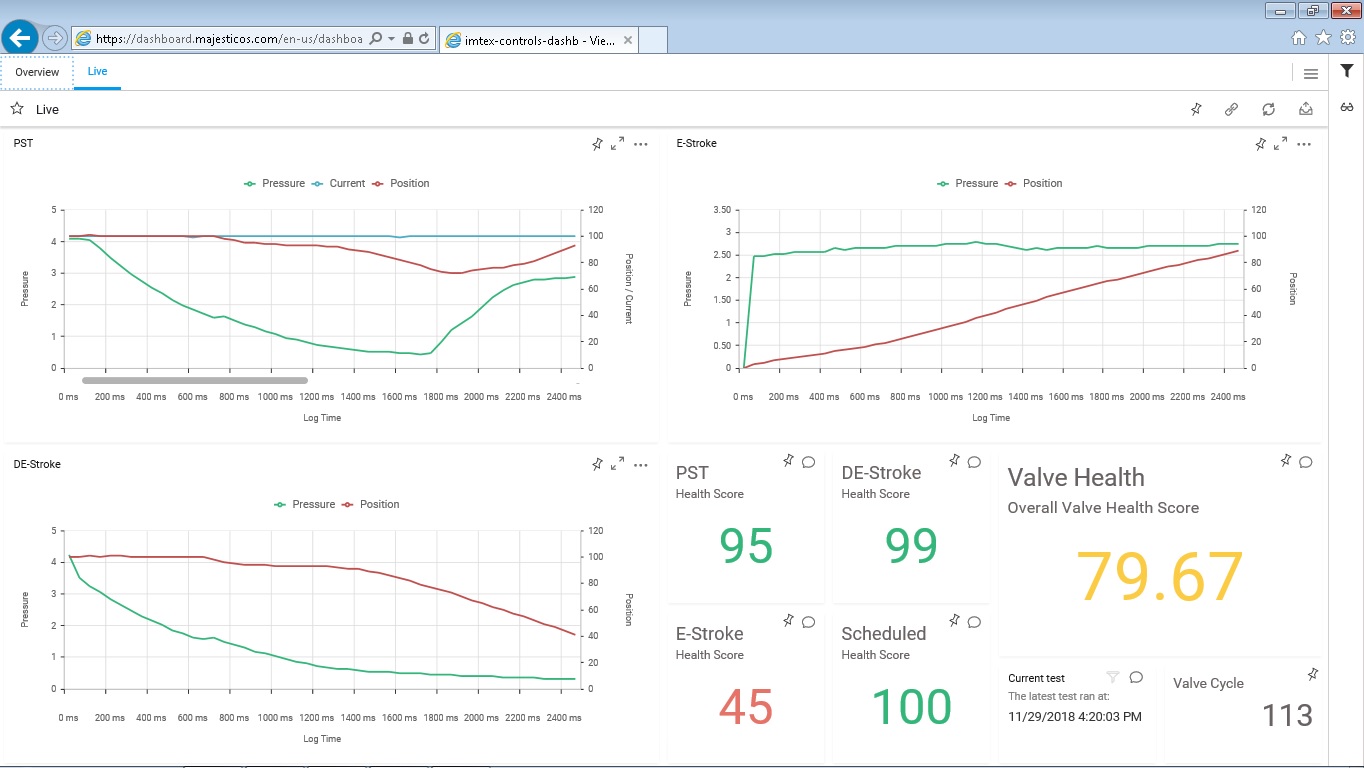 Automatic event analytics
As well as providing a valve history, ValveHealth™ also analyses events and compares new events against 'baseline' data defined for the valve. This allows performance flags to generated
Detailed event analytics
In addition to the automated events generated, ValveHealth™ allows Imtex Valvescan™ Monitoring Specialists to undertake a much more detailed review of the valve performance and issue advisory actions as required
Simple client updates 
New valves can be added to the system with an automated import using existing valve data sheets. Similarly, new client users can be added and configured without fuss
ValveHealth™ percentage feature 
Every valve in ValveHealth™ is displayed with a ValveHealth™ Percentage value – a quick reference health check for the user
Maintenance history
ValveHealth™ also allows users to log any maintenance performed on the automated valve, enhancing the valve history records
Clients alerts
If desired, ValveHealth™ can send automated or reviewed alerts to specific client personnel or valve service providers to allow preventative maintenance to be performed