Optimum Whole Life Cost Solution
Market leading pneumatic, hydraulic, and electric actuator technology ensuring constant operational safety and reliability
The Camtorc series actuators are designed to ensure compact and safe operation of valves and dampers with a constant torque being generated throughout the entire pressure stroke of the actuator. The lack of internal gearing means that backlash is eliminated, making the Camtorc actuator an excellent choice for modulating control applications whilst the unique dual piston design offers excellent characteristics for valves with relatively low Maximum Allowable Stem Torque (MAST) values.
The Camtorc series is available for pneumatic and hydraulic applications in either double acting or spring return configurations with a full range of control accessories.
Materials of construction include bodies in either aluminium (Type A), steel (Type S & CS), or Stainless Steel (Type SX & CX). Spring cylinders and internal components are made of steel or 316SS construction with drive shafts of 316 or 17-4PH stainless steel.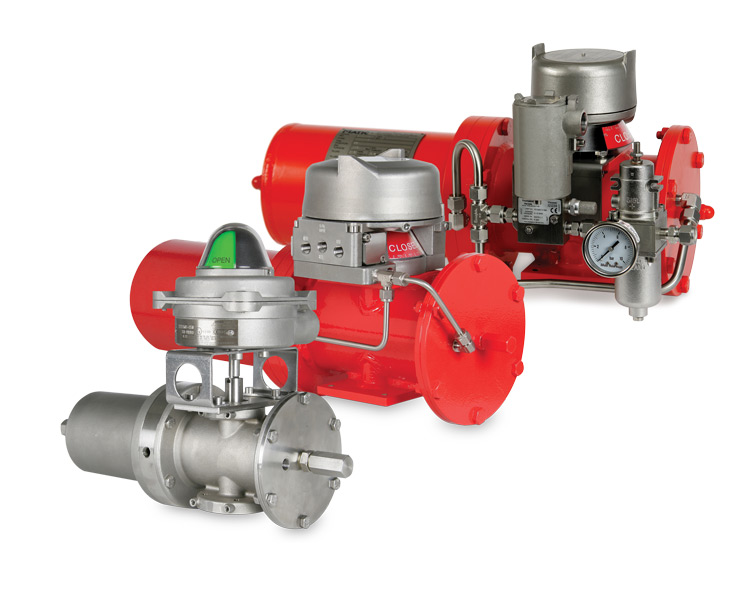 Features & Benefits:
Cam Design
The unique cam design offers a highly efficient and simple, backlash free operation providing extended life of seals and components
High Integrity Construction
Camtorc actuators only utilise steel and stainless steel materials (excludes Type A variant) for all actuator components (no iron) and are fully tested on assembly to provide superior operational life
Paint Finish
Standard paint finish for Camtorc actuators is an offshore 2-pack epoxy (other paint specifications available on request)
Full Torque Output
The pneumatic spring return version at the beginning of the spring stroke has a 15% increase in torque output, providing extra power for the break torque and at the end of spring, the torque output is the same as that of the double acting variant of the actuator
Compact Dimensions
The high torque output of the pneumatic spring return version allows for the use of smaller size actuators than is the case with conventional actuator designs
Long Spring Life
All springs are stress relieved after forming to ensure a long life
Whole Life Cost
Camtorc actuators are exceptionally low wearing providing low maintenance and the optimum Whole Life Cost solution for the customer